Rocky Mountaineer is a leading luxury provider of rail journeys to and from Europe, Asia, Canada and the US. The company has received $175 million in funding this year alone, with plans for further expansion into Brazil and China later on. CEO says that COVID-19 allows Rocky Mountaineer to grow sustainably while also providing more options for customers.
The "is the rocky mountaineer running in 2021" is a question that has been asked many times. The Rocky Mountaineer CEO talks about how COVID-19 will impact their company and US expansion plans.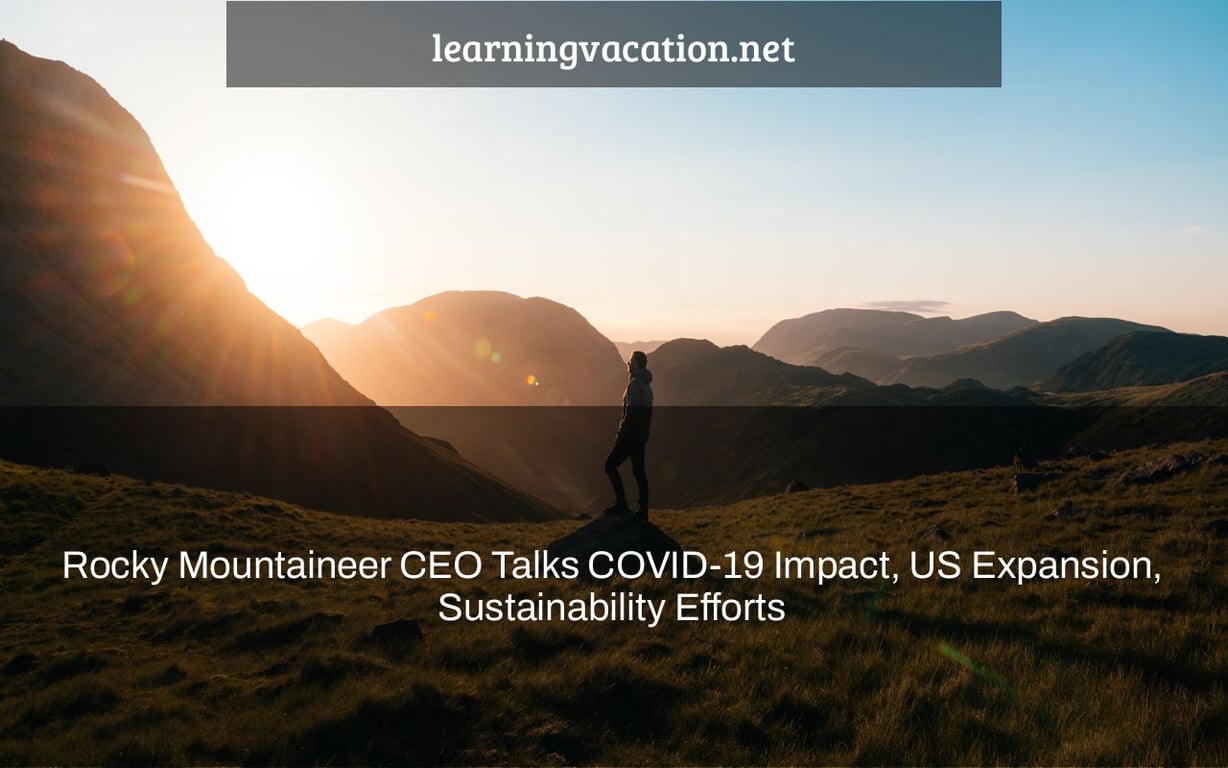 As the tourism industry recovers from the terrible effects of the coronavirus epidemic, Rocky Mountaineer, a Canadian rail-tour firm, has set the tone for how the rail sector should go ahead in the future.
Rocky Mountaineer named David McKenna as its new President and Chief Executive Officer in January. He discussed a variety of subjects with him, including the company's long-term objectives, the effect of the coronavirus, sustainability measures, diversity programs, and more.
ADVERTISING
Here is the full Q&A session with McKenna:
(TP): On January 4, Rocky Mountaineer welcomed you as its new President and Chief Executive Officer. What are your immediate ambitions for the firm, as well as some of your long-term objectives as you lead the rail brand into the post-pandemic era?
David McKenna (DM): I am thrilled to be part of this incredible team. Rocky Mountaineer is truly an iconic travel brand and I look forward to being part of its exciting future. My short-term plans are focused on recovering the business from the impact of the pandemic. The top priority is taking care of our people. The past two years have been challenging for everyone working in tourism and hospitality. I am focused on doing whatever I can to support the health, well-being, and engagement of our team members. We are also looking to recruit new people to join us in rebuilding the business and we have some very exciting and interesting roles to fill. People who are looking to build skills, gain experience, and drive career growth skills should seriously consider employment in tourism as we emerge from the pandemic.
We're all focused on the next trip season as a group. Our sales are moving along well, with some days already at or near capacity, and we're excited to see the first trains leave in April. Our staff will continue to provide the exceptional onboard service for which Rocky Mountaineer is recognized, while also assuring our clients' safety and comfort during their trip. Our extensive preparation for the next season ensures that passengers may board the train and relax, knowing that we have taken care of everything.
Longer term, we want to build on our Western Canada expertise and continue to extend our services to include additional areas. The debut of a new route between Denver, Colorado, and Moab, Utah, last year was the first step in this expansion, and there will be more to come. Rocky Mountaineer has developed to become a leader in Canada's tourist environment over the last 30 years, with the overall objective of becoming a global tourism leader with a portfolio of compelling, unforgettable experiences to offer people globally.
What's Hot Right Now
TP: Rocky Mountaineer began its first US route between Denver, Colorado, and Moab, Utah, last year. Are there any plans for additional growth in the United States in the future, and which destinations—American or Canadian—would you want to add to the company's portfolio?
DM: This is a great question and my response, at this point, is to stay tuned. We were incredibly pleased with how the 2021 preview season of the new Rockies to the Red Rocks route went and we look forward to building on this success for the year ahead. The team is considering numerous options for further expansion, all of which require further work before we will be in a position to share more.
What we do know is that wherever we grow next, iconic natural landscapes, comparable to our favorite travels in Western Canada and the American Southwest, will be best enjoyed by train. This features breathtaking beauty, distinctive landscapes, warm communities, and intriguing places that will entice visitors from all over the globe.
TP: The rail sector, like the rest of travel, has been coping with the effects of the Omicron form of coronavirus. How has Rocky Mountaineer handled the increased number of verified COVID cases, and what precautions are in place to protect passengers, in your opinion?
DM: When our first train departs from Denver on April 17, it will be with the health and safety of those onboard at the forefront of every action. We will continue with the extensive protocols we put in place last season to provide a safe, comfortable atmosphere for our guests. In addition to thorough and regular cleaning and sanitization procedures, all our team members will be vaccinated, and everyone will be required to wear masks when moving around the rail cars. Additionally, our rail cars are equipped with high-end air filtration systems to ensure steady intake, filtering, and circulation of fresh air. Our guests can be confident we have prioritized their health and safety, so they can enjoy their travels in complete comfort.
TP: What are some of Rocky Mountaineer's and the train industry's sustainability initiatives to make it more ecologically friendly?
DM: As a company, our commitment to sustainability focuses on protecting the areas we travel through, using resources wisely as we operate our business, and supporting the communities where we live, work, and travel through.
We want to reduce our environmental effect through reducing trash and carbon emissions. By 2023, we want to divert 90% of trash from landfills, and we're well on our way to doing so thanks to the adoption of reusable dinnerware, composting, and recycling. We've also collaborated on a study initiative that looks into the possibility of alternate train fuel sources, which is an interesting potential for the future.
Through team fundraising events and volunteering in their areas, we enable our team members to support issues that are important to them. Each year, we also fund a number of groups with goals to conserve environment and animals, increase food security, and preserve local culture.
We understand that our employees want to be proud of the company's dedication to sustainability, and that our customers want to travel in ways that are environmentally friendly. Rocky Mountaineer has a long history of dedication to sustainability, and it will continue to be an important part of the company's future.
TP: What steps is Rocky Mountaineer doing to promote diversity, equality, and inclusion?
DM: We believe that sustainability is not possible without diversity, equity and inclusion. This starts with our internal passion to attract, recruit, train, and empower team members. It is about ensuring all team members have access to the tools, resources, and support they need to excel.
It's also about ensuring that all inhabitants may benefit from the economic effect and other advantages tourism provides to communities, with a special focus on those who are under-represented and historically disenfranchised. We collaborate with local companies, organizations, and associations to find methods to support these initiatives.
Onboard the trains, our crew is dedicated to giving passengers an experience that is both accessible and inclusive, as well as representative of the different communities we pass through. Rocky Mountaineer has the unique chance to share the tales of the people and things that make the locations we visit so remarkable with our passengers. Our onboard hosts take great delight in telling interesting tales about the people, cultures, and communities that continue to create and impact the areas. We want to do our bit in promoting the amazing places we are blessed to call home and ensuring that they are friendly to everybody.
Our work to promote diversity, fairness, and inclusion is far from over. From marketing and content development to personnel programs and the end-to-end guest experience, we continue to look for methods to represent the diverse and inclusive world we all aim for across all facets of our operations. Above all, we value discussions with the communities in which we work, live, and travel, and we want to learn more about how we might improve.
The "rocky mountaineer timetable 2021" is a company that provides tours and transportation in the Rocky Mountains. The CEO of the company, John Kostelnik, talks about how COVID-19 will impact his company and the US expansion.
Related Tags
rocky mountaineer press release
rocky mountaineer complaints
rocky mountaineer covid
rocky mountaineer prices 2021
rocky mountaineer faq