Airlines are in a difficult position: they can either continue being greedy and gouging customers, or be forced to give up their current business model.
On Tuesday, the Senate Committee on Homeland Security and Governmental Affairs called in six airline CEOs to testify about how they would have responded if their airlines had been bailed out during the 2008 financial crisis. The executives admitted that with proper planning, they could have avoided bankruptcy. They also explained why some of them are hesitant to repatriate funds held overseas as a means of increasing tax revenue for the US government but admit it will be difficult given current law."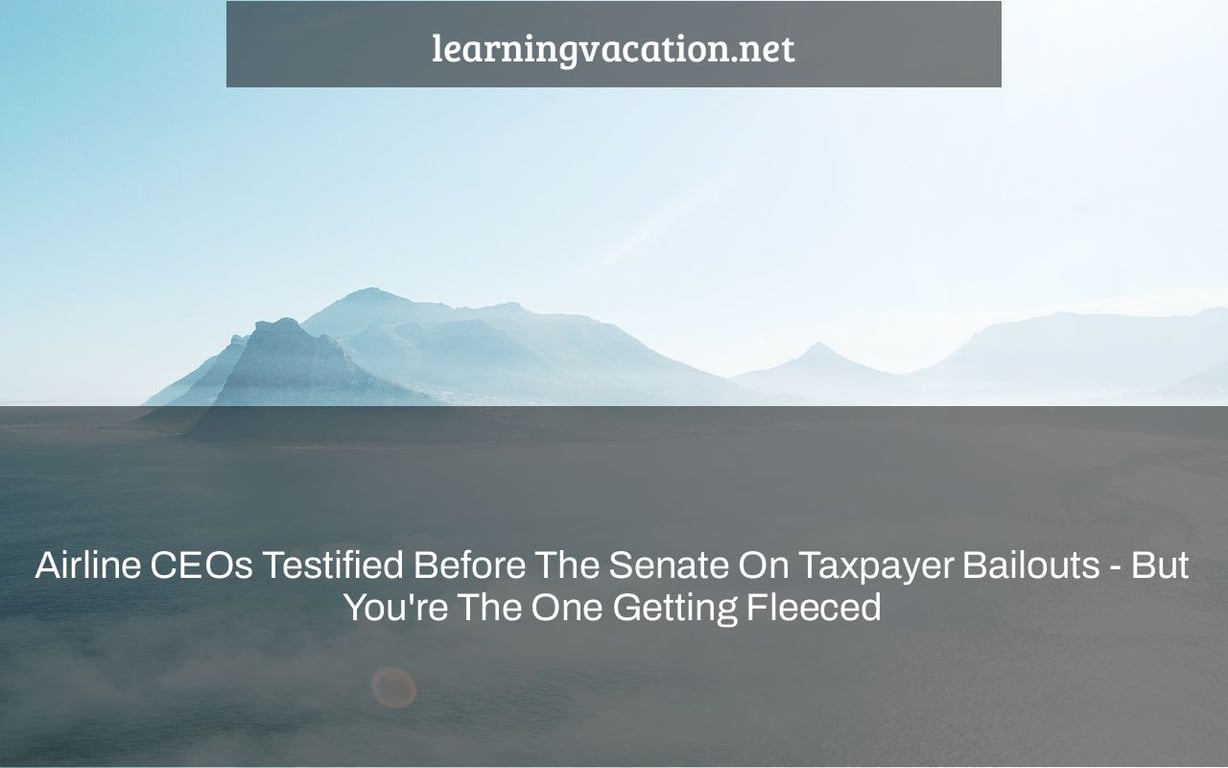 Airline CEOs Testified Before The Senate On Taxpayer Bailouts – But It's You Who's Being Duped.
on December 16, 2021 by Gary Leff
On Wednesday, the Senate Committee on Commerce, Science, and Transportation convened a hearing aimed at holding airlines accountable for accepting billions in government bailouts but failing to use the funds as intended — to keep planes ready to carry passengers when they were ready to travel again.
Despite public money being specifically used to keep everyone on staff and trained, American, Southwest, Spirit, and Delta have all suffered operational meltdowns owing to inadequate personnel as they've built back their schedules. The CEOs of American, Southwest, and United Airlines, as well as Delta's Executive Vice President and COO, testified during the hearing (and Sara Nelson).
It was, predictably, full of grandstanding and an uneasy exercise in Senators not understanding what they're talking about, rivaled only by airline CEOs' charges of deception.
Instead of grandstanding about how pandemic subsidies didn't provide the outcomes airlines promised, Congress could take efforts to really promote competition into the aviation business. Or how about quarrels with airlines that have nothing to do with government subsidies? (bashing airlines polls well in most places).
Nonetheless, there are certain lessons to be learned from congressional hearings on the three consecutive public bailouts given to airlines.
Direct contributions totaling $54 billion
Loans totaling $25 billion
In addition, they get subsidies for their contractors and suppliers.
In addition, there is tax relief.
It shouldn't come as a surprise, because the premise on which they were sold was dubious. And it was the airlines themselves that drafted the restrictive phrasing that resulted in loopholes.
These were bailouts for creditors and shareholders, not for employees.
Carriers stated that the payments were required to "keep everyone on staff and ready to fly when travel resumed," but they never did. In contrast to United, American and Delta paid pilots to remain at home and did not keep them up to date in the cockpit.
That's why they experienced pilot shortages, which resulted in operational meltdowns. Airlines have exploited the looming expiry of payroll subsidies as pressure to induce ostensibly voluntary departures by employees (e.g., 30% of American's non-union workforce).
We also know that the claim that money was flowing to employees instead than corporations was false.
By the time the second payroll assistance program began, much less than 40,000 employees were facing prospective furloughs — we know how many were actually furloughed when the first one ended on September 30, 2020, and airlines were aiming to expand their workforces from there.
Another $29 billion was set aside to cover ten months' worth of wages, equating to more than $870k per job'saved' between the second and third bailout rounds.
It was a clear subsidy to the airline at airlines like Delta, which never laid off anybody. Actual jobs may have been spared for less than 80% of what was granted in the second and third rounds for airlines like United and American that undertook real furloughs. Because they didn't want their contracts renegotiated in bankruptcy, unions agreed to monies intended largely for owners and creditors.
Politicians have a right to criticize airlines since we didn't get what we paid for.
It's odd that politicians are surprised – horrified! – that they gave money to airlines and that they (largely, but not totally) obeyed the letter of the law with those monies, rather than the 'meaning' of how the legislation was marketed. It's also not the worst thing to call it out.
And, given that Doug Parker chastised Scott Kirby at United for not properly allocating CARES Act Payroll Support money, it's a little dishonest for him to complain about Congress doing so!
There were a few more, unconnected interactions that were as fascinating. (American has subsequently returned Parker to this location.)
@AmericanAir CEO Parker adds, "I concur."
December 15, 2021 — Leslie Josephs (@lesliejosephs)
Senator Scott (R-SC): How did it make you feel? Scott Kirby: I'm Scott Kirby, and I'm here to tell you incredibly enraged
December 15, 2021 — Leslie Josephs (@lesliejosephs)
Airlines Played a Negative Role
In fact, when the second payroll bailout was approved, American Airlines refused to compensate those who had been involuntarily separated from the firm if those workers had found new positions elsewhere — despite the fact that the money was intended to bring those workers back. That seemed to be an obvious breach of the funding's restrictions.
The argument that "workers were ready to fly when clients were ready to return" was a political selling technique, much like the ridiculous claim that "there would be no way to deliver vaccinations without subsidies" (which was never even close to true). Politicians were aware of this at the time. At the time, I wrote about it. Those items ended up at a number of congressional offices.
Even today, airlines and their Hill friends are attempting to rewrite history over the bailouts. Senator Roger Wicker (R-MS) claims that the issue is because we did not provide them with enough government funds.
@SenatorWicker echoed a developing airline narrative shift:
"The airlines would have been better positioned to manage the increase in air travel demand and operational issues" if government funding hadn't expired in late 2020. pic.twitter.com/N745VYg63W
15 December 2021 — Kyle Arnold (@kylelarnold)
Regrettably, outrage, rather than real reform, will be the end result.
Members should focus their fake anger on improving air service in the United States, which is ostensibly what they're complaining about.
Foreign ownership of U.S. airlines is permitted.
Stop allowing incumbent airlines to occupy government-owned airport gates.
Eliminate slot grants at JFK, LaGuardia, and Washington National airports; instead, distribute slots on a 10-year auction basis, or just charge congestion fees for takeoffs and landings.
Improved technologies and air traffic management are also needed to improve throughput in crowded skies.
Dragging airline CEOs before Congress when they mainly followed the regulations that Congress enacted accomplishes little to enhance American air travel. However, the fact that taxpayers were duped to the tune of nearly $100 billion is still worth mentioning.
More From the Wing's Perspective
Watch This Video-